Walther Engineering and Manufacturing Company | WEMC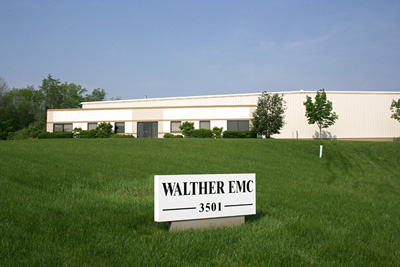 The mission of Walther Engineering and Manufacturing Company is to design, test, manufacture, and market wheel-end products for the heavy-duty truck and trailer market – employing sound business planning and using advanced engineering and manufacturing techniques.
The Walther's have been involved in the manufacture of wheel end equipment for the heavy truck and trailer industry for over 100 years. When George Walther, Sr. cast the first steel wheels for trucks, steel was a dramatic improvement over the existing iron and wood wheels.
Over the years, he, his children, and their children have continued developing his designs – now providing our customers with the most advanced brake rotors, hubs, brake drums, and braking systems in the industry. With hundreds of man-years experience, Walther EMC is able to offer the latest in technology and performance for heavy-duty truck, wheel-end products.
When it comes to combining value with craftsmanship, there really is no other choice for truck hubs, brake systems, rotors and more. Make sure you get the wheel-end products designed to last, make sure you choose the Walther EMC product line.
By selecting manufacturing processes that are consistent with product design parameters, we enhance product features and efficiently produce the product. Most importantly, through this attention to detail, product quality is assured. At Walther EMC, application of technology simply means better products at lower costs.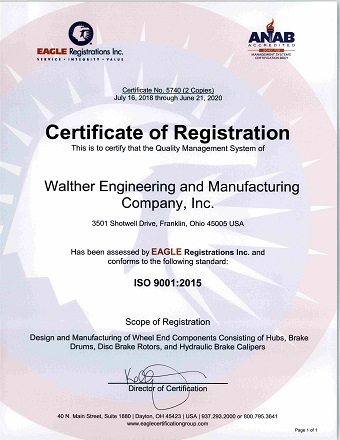 Certified to Meet Your Wheel-End & Brake Needs
When you buy Walther products, you are guaranteed to get the finest wheel-end components in the industry. We test everything we make with strict guidelines, meeting or exceeding the industry standard regulations in the process.
Our ISO certification for the design and manufacturing of wheel-end components, such as brake drums, hubs and disc brake rotors for heavy-duty loads of trucks and trailers can be viewed here:
View our ISO 9001:2015 Certification (PDF)…
Contact Walther EMC today by calling (937) 743-8125, or by sending us an e-mail.