Easy-Roll Brake Drums™
Precision-Machined, Heavy-Duty Brake Drums for Trucks & Trailers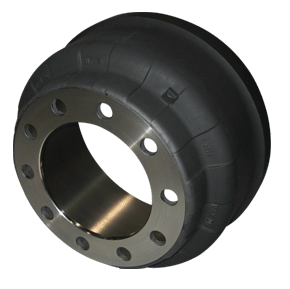 The Walther name has a long history in brake drum products. Over 100 years ago, George Walther revolutionized the industry by developing the first steel wheels for trucks. Steel was a dramatic improvement over the existing iron and wood wheels.
Since that time, the Walther family has been a leader in the heavy duty wheel-end industry. Today, Walther EMC hubs and brake drums are available for virtually all major trailer manufacturers.
Easy-Roll Brake Drum™ Features & Benefits:
Saves 4 pounds versus competitive standard cast brake drums
Made from industry standard G3000 gray iron per SAE J431
Low initial cost
Precision machined for vibration-free operation
Enhanced machining techniques provide a superior brake surface finish to prevent "shoe-slap"
Rigorous quality controls to ensure product integrity
Fully interchangeable with all competitors
Certified through third party testing to be Federal Motor Vehicle Safety Standard 121 (FMVSS-121) compliant
Meets or exceeds OEM and SAE standards
Outperforms competitive drums in dynamometer durability testing
Walther EMC is an ISO 9001:2015 registered company
Download the latest product sheet for the Walther EMC Easy-Roll™ Brake Drums (176 KB)
Walther EMC
Part #

Description

Webb
Part #

Conmet
Part #
Gunite
Part #
KIC
Part #
Meritor
Part #
Motor Wheel
Part #

03-00043

16.5" x 7"

66864F
56864
76864

107150
10001776
10009830

3600A

53033-01

03-123207

2308712

13-00043

16.5" x 7"
Balanced

66864B
56864B
76864B
107150
10001776
10009830

3600AX 3922X

60001-018

85-123207

2308709

13-00060

16.5" x 8.625"
Balanced

66854B
66855B
76855B
17638
10012097
3780
3807A
3807AX

54229-01

–

640000

03-00050

12.25" x 7.5"

63680F

–

3887

54244-01

–

630002
Contact Walther EMC today by calling (937) 743-8125, or by sending us an e-mail.