Dura-Light Hubs®
The Preferred Hub for 2″ Offset wheels & Wide-based, Single Tires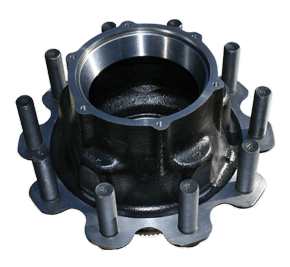 In keeping with Walther EMC's heritage of bringing innovative products to our customers, we have been busy making the industry's lightest hubs even lighter!
Our engineers have used the latest technology to optimize the hub designs – enabling us to eliminate material where it is not needed. This provides the ideal amount of material in the critical areas, giving you optimal performance.
The five-pilot geometry of our Dura-Light Hubs® reduces stress concentrations in the critical areas. The end result is a lighter hub that is even stronger than our previous generation.
Dura-Light Hub® Features & Benefits:
Low cost
More freight capacity for entire trailer life; helps offset recent increases in tractor weight
Improved fuel economy – lower rotational inertia
No future costs to maintain weight savings; i.e. high replacement cost of light-weight brake drums
Trailer more valuable because light-weight (resale)
Life-of-the-Vehicle Warranty
Weight reduction without trailer life compromise
Utilizes industry standard components – bearing cups, seal, hub cap and hub cap bolts
Utilizes industry standard procedures for maintenance
Virtually impossible to strip hub cap bolt hole threads
Industry-leading lubricant capacity extends bearing and seal life
No Aluminum Hub Maintenance Risks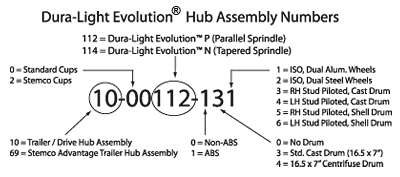 Download the latest…
Technical Sheet for Dura-Light Hubs® for P Trailer Axles
Technical Sheet for Dura-Light Hubs® for N Trailer Axles
Contact Walther EMC today by calling (937) 743-8125, or by sending us an e-mail.