Dura-Light Hub® and Rotor Assemblies
The Perfect Balance of Weight, Functionality, and Value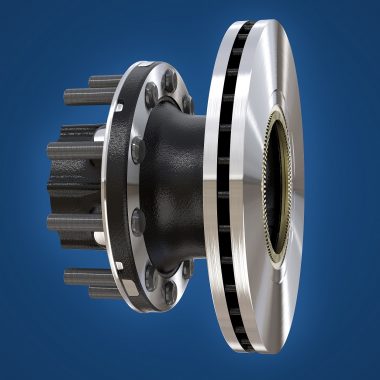 We've been at it again!  This time we've set our sights on bringing superior value to air disc hub and rotor assemblies with our new Dura-Light Hub® and Rotor Assemblies for trailer applications.
Our engineers have used the latest technology to optimize the hub designs – enabling us to eliminate material where it is not needed in the hub. We used a portion of this weight savings to put extra material in the rotor to resolve common field complaints with competitive products.  Our simple construction which utilizes the wheel bolts for attaching the rotor eliminates rotor retention concerns and optimizes heat flow to keep your seals, bearings, and lubricant running cooler!  Our patented CR-ABS™ tone ring attachment system reduces ABS tone ring retention and corrosion issues!
Dura-Light Hub® and Rotor Features & Benefits: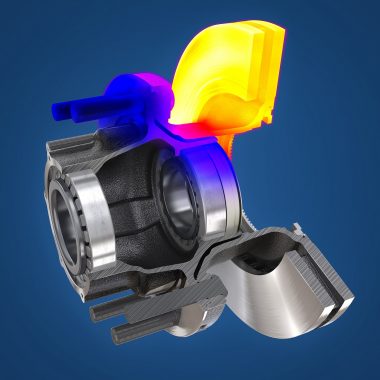 Superior Heat Management Reduces Heat Input to Seal, Bearings, and Lubricant

Larger rotor mass
Longest conductive path
Smaller cross-sectional area for heat transfer
Dura-Light material – Lowest thermal conductivity

Dura-Light = 21 W/m°K
Ductile Iron = 32 W/m°K
Aluminum A356 T6 = 151 W/m°K

CR-ABS™ Patented Tone Ring Attachment System (United States Patent Numbers 7,780,367 & 8,584,815)
Simplicity / Ease of Maintenance
Rotor affixed to hub using wheel bolts (aka the Strongest Joint on the Vehicle)
Wheel bolts can be serviced without removing hub from vehicle
Low Cost
More freight capacity for entire trailer life; helps offset recent increases in tractor weight
Improved fuel economy – lower rotational inertia
Weight reduction without trailer life compromise
Utilizes industry standard components – bearing cups, seal, hub cap and hub cap bolts
Virtually impossible to strip hub cap bolt hole threads
Industry-leading lubricant capacity extends bearing and seal life
No Aluminum Hub Maintenance Risks
Indestructible Hub pilots
E-coated inside and out (cleanest cavity)
No heat to service cups
Click below to watch the video
Download the latest…
Contact Walther EMC today by calling (937) 743-8125, or by sending us an e-mail.